Monday, February 01, 2010
The iPad Discussion

It's been a few days since the announcement. The reality distortion field has worn off a little. We've
laughed with Hitler
and cried that the Macbook Pros are still touting Core 2 Duos. The iPad is released to the world and everyone has something different to say. Let's take a look: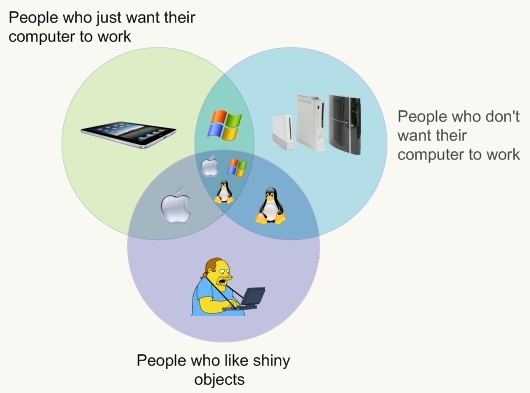 ---
| | |
| --- | --- |
| | The iPad is supposed to revolutionize the computing industry. It's a giant iPod touch, we know that. But the fact that it's a giant iPod touch means every app goes through the App Store, and every App should therefore be safe to run. It shouldn't be prone to viruses and crashing like normal computers. Despite the fact that Apple is now the oppressive totalitarian regime it once threw a hammer at, it will just work. You give up your access and freedom to do it. Apple people love it because it's apple, Windows people love it because they love their iPhone and are afraid to get a mac. |
| | People who don't care if their computers work can fix problems by themselves, enjoy hacking/tinkering with their tech, or stopped caring about computers because they bought an xbox. They couldn't care less about the tablet because they already have a nintendo DS and a cheap computer running Windows or maybe some sort of Linux. |
In the middle are the Apple users and the Windows users. Apple users want their computer to work so they love the stability of unix, but are drawn to the shininess of the OS and computers themselves.

Windows Users want their computers to just work also, but not enough to get a mac. They shy away from the shiny but pretend Windows Vista looks just as good.

If you don't want your computer to work, but you're still a fanboy (eccentric), you are running linux. You passionately rebel against anything M$ and you hate all other fanboys, especially Apple's. After you've recompiled your OS for the 4th time today, you'll start a flamewar at a mac site about how Apple controls everything and that everyone who buys one is a sheep. Then your computer will kernel panic and you'll have to…no….you GET to recompile it again
In the middle are the total geeks who own all three types of the major OS's. They already have a netbook and might trade it for an iPad depending if they have an iPhone, or not if they have an Android.
On the bottom are the fanboys. They don't care if it works. They don't care if it doesn't work. They will defend it to the grave. They will attack anything else.

They cannot be reasoned with. They cannot be ignored. Be afraid, be very afraid.
Posted by
eclipse
on 02/01 at 12:06 AM
Possibly Related Posts:
03/03/2012 -
Finally, an update!
09/03/2011 -
Come out with iPhone 5 already
12/19/2010 -
The Most I've Ever Typed on an iPad
10/29/2010 -
Our Wedding Story
10/24/2010 -
The Macbook Air Experiment
08/07/2010 -
Drivers Wanted
06/29/2010 -
New House Pictures!
06/11/2010 -
New iPad Awesomeness