Wednesday, November 05, 2008
D-Link DSL-2320B How I loathe you.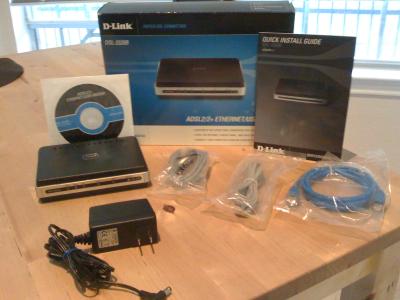 The subject of today's rant is my old D-Link DSL-2320B modem/router. It's hard to hate something that you bought for only $10 off craigslist, but this thing drove me crazy for months. It wasn't broken equipment, DLink just made sure to cripple it for who knows why. Oh sure, on the outside it looks like a very standard piece of equipment. It's got a port for the phone line, an ethernet port, usb, reset switch etc... But to be honest this piece of junk would have worked better if it was an empty box.
I run a very standard internet setup in my apartment. There is no cable internet service, so we have DSL through Grande Communications in Texas. Despite charging us for premium service and only providing basic internet bandwith since January (now resolved), I've been pretty satisfied with their service. So I need a DSL modem which plugs into my apple airport extreme router (I know, apple what a surprise, right? Well it has a USB port I can plug our printer into so I dont need a print server). My desktop plugs into the router via cat5, all other computers/ps3 are wireless N. Giggity. What I look for in a DSL modem is simplicity. Like UNIX, do one thing and do it well. Seems like DLink's strategy is to attempt to do many things, but utterly fail at everything. Come on D-Link! It's not a complex mission I bought you for:
1:) Connect router to Grande network
2:) ???
3:) Profit!
Because I'm a hacker like yash, I decompiled the source code to the modem which is ironically written in basic:
10 Assign 192.168.1.1 to self
20 Connect to grande
30 Assign WAN IP to everything
40 COMPLETELY FUCK UP DHCP
50 Disconnect from Grande
60 Goto 10
This modem refuses to play nice with the most standard router setups. My old modem before it broke had a DHCP server - that's fine with me, I put the router in bridge mode and the dsl modem gives my computers IP addresses and interwebs. Not my preferred way, but it works. It croaked, hence me getting DLINK SPAWN OF SATAN off craigslist. DLINK also assigns itself 192.168.1.1 but won't give connected computers internal LAN IPs. It tries to give every computer connected the WAN IP and it fucks up. The only way I got it to work was basically double NAT, the router assigning DHCP fighting with DLINK on another subnet. Ugh squared.
But that's not even the worst part! The absolutely useless web interface gave me no info other than WAN IP and the fact that itself was 1.1. After installing the modem for the first time Alison and I found we couldn't reach certain websites like yahoo and my work website. A little google digging revealed that the
MTU
, or Max Transmission Unit was to blame. Basically when you transfer info over the internet the info is broken into little pieces called packets and the MTU is the largest size in bytes each packet can be. For ethernet/cable internet the MTU is 1500 bytes, which computers use standard. For DSL connections, depending on your provider, it is 1492 bytes. Normally your DSL modem will tell your computer you're connected with an MTU of 1492, but not DLINK, no way... That's way too helpful. You would think a
DSL Modem
would connect at a
DSL MTU
. There's no setting, nowhere on the unit where you can connect at an MTU of 1492. DLINK thinks it's easier and more obvious to
dig through the registry
to change it on your computer itself. Windows is nicer about it, and stores the registry key, but on OSX (3 out of 4 computers in my apt.) you have to change the MTU manually, via the console, every single time you reboot. Good riddance...goodbye DLINK I won't miss you.
Jo gave me his old Motorola Netopia 2210 DSL modem when I was last in OH and yesterday I replaced Satanlink with it. It's more of a dumb modem where I can have the router store the connection info and just use the box to dial out over PPPoE. Exactly what I was looking for. Easy, fast, stable. Do one thing and do it well. Thank you Jo.