Thursday, January 18, 2007
Motorola PEBL Review
I mentioned in the last post that I bought an unlocked Motorola PEBL on ebay and I recieved it on Tuesday. I've had a few days to play around with it, and here are my thoughts:
PEBL, new phone on left, Panasonic x70, old phone on right for comparason: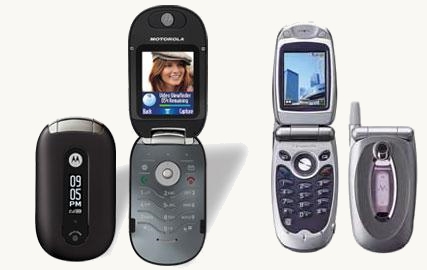 Wow! Compared to my last phone this one is amazing. I don't have much experience with the RAZR to compare it to, but I really like this phone. I don't know why it didn't get good reviews. I guess I can be glad though, since the price sure came down fast! For those that don't know, I got a black Motorola PEBL new from ebay. What attracted me to this phone was the smooth exterior, simple design with a quirk (the unique pull-down to open flip phone). One of the reasons I like the apple powerbooks and macbooks is their smooth kinda minimalist design. The phone doesn't have many things sticking out of it, different layers of plastic, etc… I like the weird way of opening it, even though it took some getting used to. It's fun to pull down on the lid when I'm bored even though I'll end up breaking it. The black matte exterior is cool and doesn't show fingerprints. No scratches as of yet, it seems pretty durable. The outside LCD is very long (tall) and skinny. Black and white only. You can't set the display to show a clock so that you'd hold it sideways, like my old panasonic x70. You can only have a crappy looking analog squished clock or a digital clock like in the picture. As I get used to it, I find myself caring about it less and less and the big numbers are actually convenient.
MiniUSB charging was weird on the PC. I had to install software to get it to charge on my usb port (which i also use to charge my motorola h700 bluetooth headset). I was hoping to be able to charge both devices on the same cable, and even though I can now, I'd rather not have to install software. Jo says it's a Windows thing and the mac should just work (like normal),but I don't want to unplug the usb cable and I haven't tried. I've been charging it via the wall charger lately which is fine. Battery lasts forever. When I go flying, all cell phones lose signal and begin to search which eats up battery like crazy. The PEBL still has yet to drop from full battery so far, and I charge it every night. Jo says the RAZR (and so the PEBL too in theory) has good power management and won't spend the whole battery searching for signal when it can't find it. Bluetooth power management is similar and it won't keep bt powered when nothing is paired. More on bt later.
The PEBL gets better reception than the panasonic and sounds great. I was talking to Alison while driving and she couldn't hear any road noises behind me, and thought I was at home. That's pretty sweet. I also like the antenna-less design. My panasonic antenna was getting loose. I'm unable to send text messages on the pebl. I also couldn't do it on the panasonic so I'm thinking it's a weird t-mobile thing and I haven't really checked on it.
The software was something I was warned about with motorola from RAZR users. While at the beginning I didn't like it too much, most of it is customizable, and now I have no issues with it. By default it only showed 3 phone numbers at a time in my address book (which is quite large with numbers from the airport and stuff, if i've ever called a number its in my address book) in "picture mode", and it had a weird search feature that gave me the wrong names when searching. I've been able to switch it to a simple list of small names and when i push a button on the keypad, it will jump to that letter in the phonebook. Much better and faster. Phone settings seemed pretty straight forward and I was able to disable useless features like the greeting and a screensaver (for a phone, really?). Haven't had any desire to play the games yet. I can finally hold down "1" to get my voicemail again! The panasonic tried to call some weird phone number and i couldn't change it. But for some reason it sends me a blank text message every time i check voicemail. Weird. There's also three buttons on the sides that i haven't figured out yet, like voice dialing. Ignoring them for now.
Bluetooth was very simple to setup on my macbook pro. It synced right away with iSync and copied all my calendar and contacts without any setup or driver cds. I can browse the files on the phone like finder or explorer and copy from it via drag-and-drop. Jo said he couldn't with his RAZR, but that's unverified. I also sent some mp3s to it for ringtones and a picture for the background. Once I remembered how to work my h700 bt headset, I synced easily and sounds great. (Side note: I also synced the h700 to my mbp and used it with ichat video chat, verdict: Awesome!). A feature I just discovered and love is that I can be talking on the phone like normal and maybe I decide to use bluetooth. Even though bt isn't enabled, I can enable it during the call, have it automatically sync to my headset and be able to close the phone and only use the headset. After the call, I close the headset and bt turns back to idle! Unheard of on my old phone! The panasonic required me to have bt on and already synced before making a call. Then if I hung up, it would unpair from the headset for a few minutes while it caught up. Big improvement. Only downside I could find to bt is that if my headset is paired (which requires the headset to be active, open, and in my ear) when the call comes in, it uses a default motorola rigntone instead of my own - wtf? But it's not a big deal since I don't walk around with the headset active. Jo says it happens on all motorolas and he helped me discover it. Bluetooth is a big selling point for me and I'm very happy with it on this phone.
Common complaints about the PEBL are low memory and bad camera. It does only have 5mb of memory, but that's enough for the two ringtones I use and my background with room for a few pictures. It's not an issue now but we'll see in the future. Let's compare cameras:
Panasonic x70: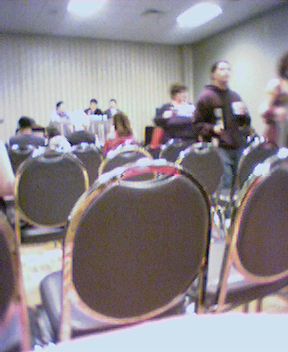 Motorola PEBL: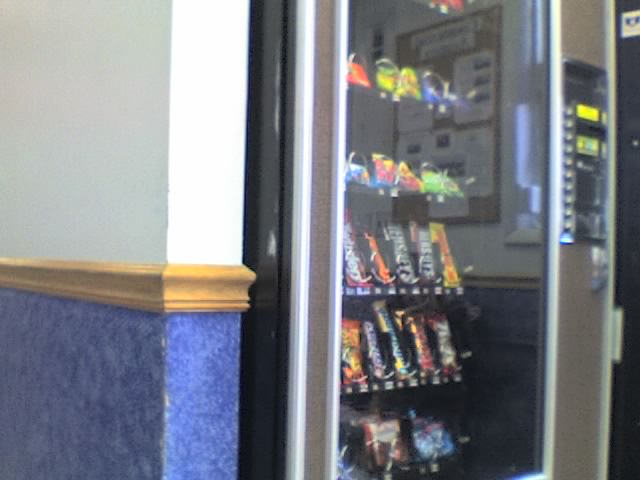 Much better, even if it's not the best. I don't take a ton of phone pics anyways, so again we'll see if it turns into a big deal. Jo says the PEBL is almost the same thing as his RAZR, and I much prefer the design of the pebl ovr th razr, so I win :D Overall I'm very happy with my PEBL and we'll see what I think in June when the iPhone comes out!
Posted by
eclipse
on 01/18 at 08:51 PM
Possibly Related Posts:
01/14/2017 -
Re: 2016 Macbook Pro
09/03/2011 -
Come out with iPhone 5 already
09/03/2011 -
Upcoming Upgrades
09/10/2010 -
Quakecon 2010!
06/29/2010 -
iPhone 4 rant
06/11/2010 -
New iPad Awesomeness
04/08/2010 -
How to Travel Standby
02/01/2010 -
The iPad Discussion
01/13/2010 -
50,000 plz
01/07/2010 -
Rumors and Previews
08/29/2009 -
Aspire to Greatness
08/23/2009 -
Like any other day...
07/03/2009 -
The San Francisco Treat
06/04/2009 -
The Apple TV Experiment
05/21/2009 -
A Week in the Life
03/25/2009 -
All This Has Happened Before And Will Happen Again
11/05/2008 -
D-Link DSL-2320B How I loathe you.
10/02/2008 -
DarkMercury.net / Featured
09/03/2008 -
Apple iPhone Review
08/19/2008 -
Welcome to DarkMercury.net!
08/23/2007 -
Hardware Giveaway Round 1
02/19/2007 -
The Mean Ol' Skies over Akron-Canton
01/14/2007 -
Response to the iPhone
12/28/2006 -
Christmas in Review
12/04/2006 -
Macworld 07 Rumors
10/01/2006 -
Internship comes to an end
05/25/2006 -
Texas is far away
01/10/2006 -
The Pro from Cupertino
12/06/2005 -
Schultzie got hacked!
08/16/2005 -
Quakecon 2005
02/18/2005 -
Dammit
04/10/2004 -
Live from furry nips!
04/04/2004 -
History is written by the victorious
03/06/2004 -
Ever have that feeling
12/24/2003 -
Its Stuponfucious!
10/26/2003 -
Life without Panther, how can I go on?
10/26/2003 -
Life without Panther, how can I go on?
10/13/2003 -
ITS LIKE I CAN ACTUALLY TOUCH YOU!!
09/16/2003 -
Wearing out..
08/27/2003 -
School's Open! Drive Carefully!
08/08/2003 -
LanOhio Breakfast
07/22/2003 -
Six Flags Worlds of Pain
06/03/2003 -
Whempy's Wireless Project
05/18/2003 -
My Rant, Reloaded
05/18/2003 -
Ancient Blog History
04/22/2003 -
The beginning of the end of the end of the beginning of the beginning of the end of the internet.
04/01/2003 -
The internet is alive!