Wednesday, November 05, 2008
Guitar Hero 3: Legends of Rock
don't say I never try anything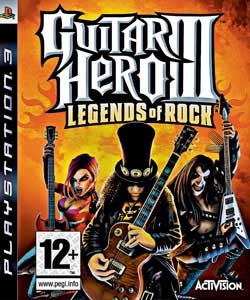 Okay, I will never pick up on WoW no matter how often everyone else posts about it. But everyone has such a good time playing and talking about Guitar Hero / Rock Band, I figured it was worth a look. After all, I did enjoy DDR a lot, and I was good at it without taking too long to get good at it. With the recent release of Guitar Hero 4, I was able to pick up the game and two Les Paul Controllers for about $75. GH3 is a welcome addition to my PS3 game collection which is growing very slowly on account of available moneys and lack of games.
God what a hopeless idiot I am for not knowing GH3 and Rock Band are not the same companies anymore, right? I guess there is a lot of drama between red octane and harmonix and activision, but oh well. This game was cheap, I have two guitars for it so I can play with Alison, and I'm enjoying the game. A recent update to the PS3 will allow my controllers to work with rock band should I decide to get it anyways. After about a week I am around the hard-medium-to-easy-hard stage. I can beat the normal tracks in medium with about 95% notes hit, and I can play one or two hard songs, but difficult songs mess me up on medium and I'm trying to play the harder songs to get my note recognition faster before really moving on. Overall I like the game and how it is similar to DDR, but what annoyed me is the career mode. I don't really care to battle guitars. I don't care about winning money or custom characters. I don't want to fight to unlock songs. And I want to play co-op with Alison which forced us through another career mode but oh well. I just want to play a guitar, play any of the songs I want to, and be a rock hero wooo! Pretty much immediately I was putting in the cheat code to unlock all songs, and much prefer it this way. I don't know a lot of the songs but they are fun to play. Has anyone played the new one? What tips are there for stepping up from medium to hard?
Doh! Forgot to mention my favorite song: Paint It, Black by The Rolling Stones in 1966. I can't believe it's that old of a song.
Posted by
eclipse
on 11/05 at 03:51 PM